Hi and welcome coffee travelers,
I'm Melanie, a specialty coffee fan that loves to travel and explore the (specialty coffee)world! I love to inspire people and talk coffee!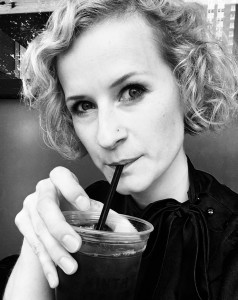 I used to do those 'normal' sightseeing trips that covered most of the touristy spots in the past. I didn't really like these trips, because I only experienced the city or country I visited as an outsider that doesn't really get an impression of the people living there…
At some point, though,  when I got deeper into specialty coffee, I noticed that I started building my itinerary around the specialty coffee places I wanted to see at my very travel destination. The sightseeing was just a nice 'add on', I didn't really care about anymore…
And, I started noticing that more like minded coffee people were doing the same – wrapping their itinerary around certain specialty coffee shops, cafes and roasteries that they wanted to see while visiting their travel destinations.
This got me thinking…
Why not create a platform, where coffee people can get inspirations, where and what coffee places to go to while traveling to certain countries and cities. Plus, suggesting nice touristy spots or other great places, like restaurants, bars, etc. as well, to make the most of their coffee travels…?
This blog is about my travel adventures within the global specialty coffee community and about exploring my travel destinations via its specialty coffee scene – one cup of (specialty) coffee at a time.
I started this kind of traveling about 3 years ago. In Europe London and Amsterdam as well as Berlin, Hamburg, Munich and Frankfurt have been on my itinerary so far.
My coffee trip in summer 2016 traveling the US, to New York City, Philadelphia and Washington D.C. on the East Coast and Seattle, Portland and San Francisco on the West Coast has been topped by my coffee related journey – from seed to cup – to East & South East Asia I'm doing now traveling to the specialty coffee hot spots Tokyo, Seoul, Taipei and Saigon. Watch out for more recent adventures on my Instagram page.
Basically my trips are a mix of getting to know the local (specialty) cafe and coffee culture and its people, spiced with some touristy spots that cannot be missed while being there, my personal recommendations or hidden gems that aren't in any guide book.
I'm writing about each travel destination, be it countries or cities on this blog. Follow the categories for either my Guides, e.g. for Berlin district Kreuzberg or Neukölln, or for Cities, like Amsterdam, Philadelphia or Tokyo. If you're not yet sure, what you're looking for, head over here and scroll through all of my articles in the Blog!
But, this whole blog is not only about cafe reviews and the best places to go to… Instead, I want to provide (coffee) travels tips and ideas, give some inspirations on how to make the most of your coffee travels as well as make suggestions on coffee walking tours and how to not get over caffeinated, too …
Stay tuned for my new category, which probably will be named 'signature drinks' that includes interviews & recipes from interesting people of the specialty coffee world that are bartenders, too! ;-)
I'm open for more places! Let me know, which places I shouldn't miss in your eyes on my Facebook page or on Instagram!
If you like, what you're reading on my Blog and feel, I'd fit to your brand, let's talk! Here's my Media Kit for more information about working with me!
Welcome and keep exploring!
Mel
P.S. Wanna know more about me and my way into specialty coffee? Read more here!